DOES IT WORK ? LINE & CURL AT THE SAME TIME !
10:34 PM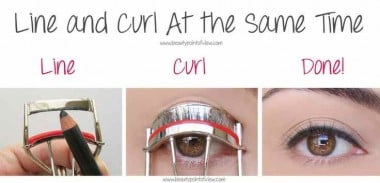 So I've seen this beauty hack for a long time now & I always wanted to try it by myself.
I mean with this Beauty Hack you could finish your eye make-up faster & it looks very beautiful.
Let's go ! - Eyeliner on Curler
Just apply the eye kohl liner on the curler, mine is the Manhattan
X-Act Eyeliner which is my absolute favorite eyeliner because it's really creamy and dark as I like it <3.
as you can see its just curly but no liner
2.Try - put more eye kohl !
just a little bit of eyeliner but not good
3.Try
so I thought I could try it with an eye pen which is more fluid than a kohl pencil.
Mine is the Catrice Calligraph pen.
But obviously it didn't work as well :(
I don't know why it didn't work, did you try it once ?
Let me know if it works on you & what I did wrong.
What should I try next ?
Thanks for Visiting my page <3
Hallo Leute, heute wollte ich mal etwas probieren was ich schon lange gesehen habe.
Und zwar diesen Beauty Hack indem man Eyeliner & Curlen gleichzeitig kann.
Wie man auf den Bildern erkennt, habe ich zuerst einen kohl Eyeliner benutzt ( Manhatten X-Act Eyeliner) den ich sehr liebe weil er schön cremig & schwarz ist.
Der 1. Versuch ging leider daneben, zwar sind meine Wimpern schön nach oben aber keine Spur vom Eyeliner.
Beim 2. Versuch habe ich extra viel Eyeliner drauf getan damit es diesmal klappt, jedoch sieht man nur eine ganze kleine spur, sozusagen ein Fleck mehr nicht !
Also dachte ich mir beim letzen Versuch einen Eyeliner Stift zu benutzen (

Catrice Calligraph)jedoch hat es auch nicht Funktioniert.
Schade das es nicht geklappt hat, falls ihr es auch man probiert habt lasst es mich wissen ob es bei euch geklappt hat oder nicht